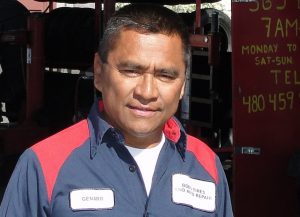 Genaro Gonzales
Super Tire, Super Llantera Mexico
25 N. Alma School Road
Mesa AZ. 85201
Email: genarocenteno54@gmail.com
Hours:
M-F: 7am-10pm
Sat-Sun: 7am-10pm
Super Tire Shop, Super Llantera
Remember!
Maintaining proper air pressure is the most important thing drivers you can do for your tires.It is important to check your air pressure regularly, come on in and we'll do it for you!
Hours of Operation
We are open for your convenience
7 Days a week 7am to 10pm
Come on in and see us!
Contact US
Super Tire, Super Llanterra Mexico25 N Alma School Rd, Mesa, AZ 85201
(480) 242-7590